Haotong Li of China captured the biggest win of his career this past weekend at the 2018 Omega Dubai Desert Classic. Not only did he win, but he did it in style by out-duelling Rory McIlroy and setting a new scoring record at the same time, finishing at 23-under-par for the week. He is the first Asian golfer to win this event and closed the tournament with four birdies in his last six holes to beat McIlroy by one stroke.
McIlroy closed with a pair of birdies as well, but a couple of mental errors and poor swings around the turn and on hole 16 made it difficult for him to win this tournament. This is the first time he's finished runner-up, however, he was the 2009 and 2015 champion here. Although he didn't win, his two-week stretch in the Middle East resulted in a pair of top-five finishes (3rd at the Abu Dhabi HSBC Championship, 2nd at the Omega Dubai Desert Classic) and an overall score of 40-under-par. This is following over 3 months of rest for him to rest and recuperate – if he keeps this up, don't be surprised to see him challenging for a Green Jacket this year.
"If someone had of told me at the start of the year you'd finish third and second your first two events, I'd say, 'Yeah, I'd take that,'" McIlroy added. "But being in the positions I've been in and having two close calls the first couple of weeks of the year, it's a little difficult. The competitor in me is very disappointed right now. I wanted to win. I always want to win, and I just didn't do enough when I needed to."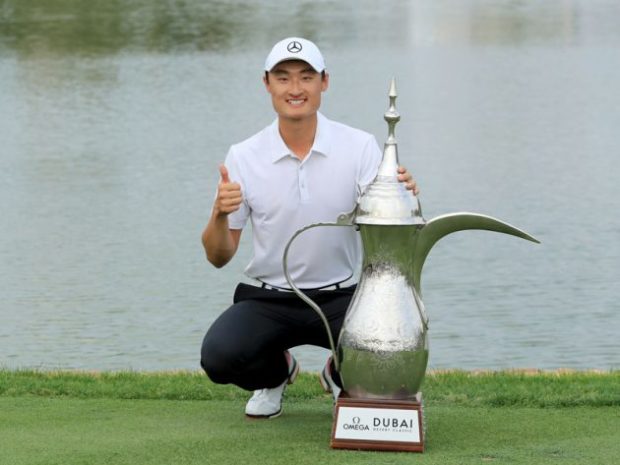 For Li though, this could be the start of something special. He burst on the scene winning three times during his 2014 PGA TOUR Series-China season and captured Player of the Year honors. He then qualified for the 2015 and 2016 Web.com Tour seasons and also won the Volvo China Open in 2016. He then began to play on the European Tour and has been improving ever since. In 2017, he shot a final-round 63 to finish T3 at The Open Championship – this, among several other top-10 finishes, led Li to finish 17th in the 2017 Race to Dubai rankings. With that, he'll also get the opportunity to play in the 2018 WGC-Mexico Championship. Hopefully his career keeps progressing and he inspires a new wave of golfers from China!
Source: European Tour