Back in 2013, we featured James Patrick ("JP") Harrington and his JP wedges. At the time, he was a one-man show working out of a garage in Minnesota. His original wedges, which retailed for around USD $299, gained a very popular following due to his grinding skills and his ability to hand-shape the soles of wedges to meet the needs of his customers. The large company's took notice and eventually, JP received a phone call from Titleist's Vice President of Human Resources, who flew to Minnesota to meet him. The week after, it was Wally Uihlein, the President and CEO of Acushnet, Titleist's parent company, that visited – since then, JP Wedges has been in a partnership with Titleist.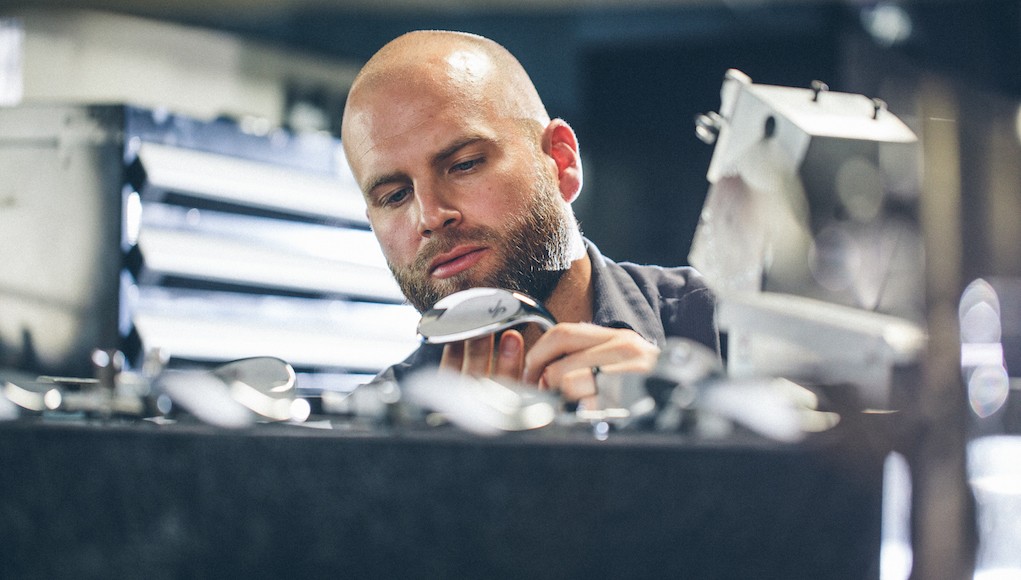 It's been four years into this partnership and today, we're finally getting a chance to see the work that has been developed! Through years of testing and validation, JP has precisely determined the construction of each wedge while utilizing the highest quality materials and manufacturing techniques. His wedges will feature a forged milled body, forged from a billet of 1025 Carbon Steel and CNC milled for precision; signature tungsten weighting, which was inspired from his early innovations, moving the CG towards the center of the face creating a more solid feel and consistent distance control. Lastly, a titanium back plate creates strategic weight savings, allowing more tungsten to be used to fine tune the center of gravity and increase forgiveness.
Each JP wedge will be available in 16 different lofts from 45-60 degrees. Each loft will also be available in multiple sole grinds (two or three), depending on the loft. And to make his wedges even more precise and customizable, each sole grind is distinct to each loft. Cosmetically, special engravings and paint fill is available for all wedges. Up to 20 characters are available for custom engraving wraps around the toe in JP's signature style with a wide spectrum of colours to choose from to cater to each golfer's unique style.
JP Wedges will not be available for purchase at retail. The only way to get your hands on these is to book a one-on-one fitting session with JP directly at the Titleist Performance Institute in Oceanside, California. The JP Fitting Station utilizes a TrackMan™ ball flight monitor and an expansive matrix of SureFit® JP wedge heads and shafts to optimally fit you for loft, lie, and proper distance gapping. A CNC controlled, High Speed Video & Motion Capture Fitting System is also used to break down your unique impact dynamics frame-by-frame, coupled with an array of SureFit® fitting tools, allowing JP to custom fit and build wedges that deliver consistent and efficient turf interaction to your short game.
Through the fitting, you'll hit full shots from the fairway and rough, pitches and chips around the green and other various locations and lies in the bunker. This exclusive fitting will last for 3 hours and set you back USD $2,000, which includes 3 custom fit and customized JP Wedges.
Source: JP Wedges