Wedges is an art of work. From hand ground Vokey wedges to the work of Roger Cleveland with Callaway wedges, there are many great choices to choose from. Today, we're featuring custom wedges from James Patrick Wedges, based in Minneapolis, Minnesota!
James Patrick Wedges works off of forged wedges from the Kyoei Forging House in Ichikawa, Japan. From these wedges, the man behind JP Wedges, James Patrick Harrington, begins his mission to create wedges based on his three principals of Quality, Performance and Aesthetics. One of the most unique features of JP wedges is the tungsten weighting used on the clubs. Instead of using lead tape or tip weights on the wedges, James inlaid tungsten weighting in the wedges, which performed exceptionally as it weights twice as much as carbon steel. In addition, this was aesthetically appealing while also adjusting the center of gravity (CG) to the middle of the clubface for a better feel, feedback and better distance control! The two other characteristics of JP Wedges are the thinned-out hosel, allowing the club to cut through grass and sand like a blade and the heel toe grind. The heel toe grind provides max versatility to hit all the shots!
With all these customization and personalization, expect a JP Wedge to start at $299 USD! However, your custom wedge will be worked on by one man and one man alone during the entire process! James estimates that a wedge takes approximately 8 hours to complete. Take a look at JP Wedges' website and who knows, you may be putting in an order before you know it!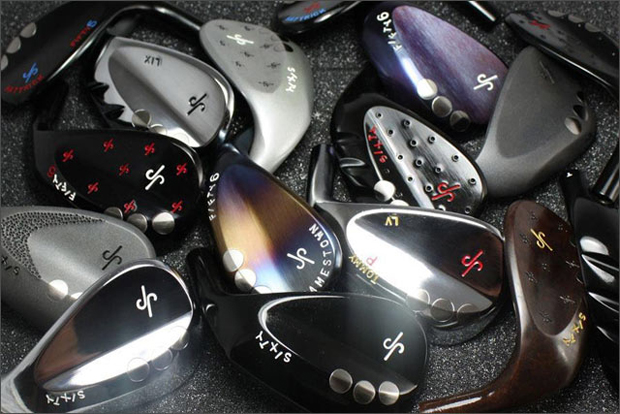 Source: James Patrick Wedges